Went to a party Mom
(read all the way to the bottom and sign your name)
I went to a party,
And remembered what you said.
You told me not to drink, Mom,
so I had a sprite instead.
I felt proud of myself,
The way you said I would,
that I didn't drink and drive,
though some friends said I should.
More
Don't undermine your worth
by comparing yourself with others.
It is because we are different
that each of us is special.
Don't set your goals by what other
people deem important.
Only you know what is best for you.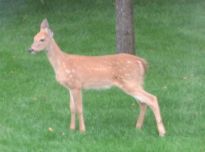 裏庭に親子の群れで現れたバンビ
More
"Therefore encourage one another and build each other up, just as in fact you are doing."
Paul Harvey reports how "Snow Man was a nameless, gray-white gelding that Harry De Leyer picked up cheaply at a horse auction. The only other bid for the horse came from a glue factory.
"Harry trained Snow Man, and the horse served well at the girls' school where Harry was the riding master. However, when the school closed for the summer, a neighbor made a generous offer for Snow Man, and Harry could not afford to refuse it. So Snow Man had a new home.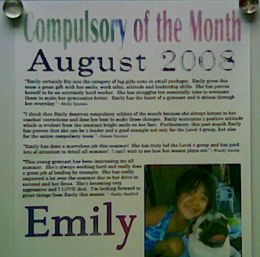 いつもにジムでニコニコしているだけで、ジムナストオブザマンスとしてメダルをもらった得な性格な次女。不機嫌なのはお腹がすいた時だけという解りやすい性格なので親としても助かる。
More