Encouragement
2008年 09月 04日
"Therefore encourage one another and build each other up, just as in fact you are doing."
Paul Harvey reports how "Snow Man was a nameless, gray-white gelding that Harry De Leyer picked up cheaply at a horse auction. The only other bid for the horse came from a glue factory.
"Harry trained Snow Man, and the horse served well at the girls' school where Harry was the riding master. However, when the school closed for the summer, a neighbor made a generous offer for Snow Man, and Harry could not afford to refuse it. So Snow Man had a new home.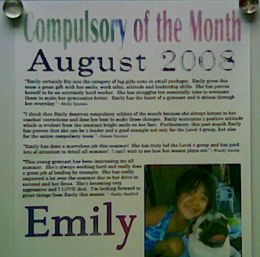 いつもにジムでニコニコしているだけで、ジムナストオブザマンスとしてメダルをもらった得な性格な次女。不機嫌なのはお腹がすいた時だけという解りやすい性格なので親としても助かる。
"Snow Man, however, liked his old home. Time and time again he jumped the neighbor's high fences and returned to Harry. Finally, Harry bought his horse back.
"In that series of events, though, was a clue to Snow Man's real greatness. Snow Man was a natural jumper, and the horse that once jumped fences to return to his loving previous master later jumped at Madison Square Garden for two national titles!"2
There's nothing like loving attention and encouragement to bring out the best in all of us! We all need it. And we all need to give it! The word "encouragement" comes from "en" meaning "in" with the word courage. Thus, to encourage someone is to put courage into them—to help them to be and do their very best.